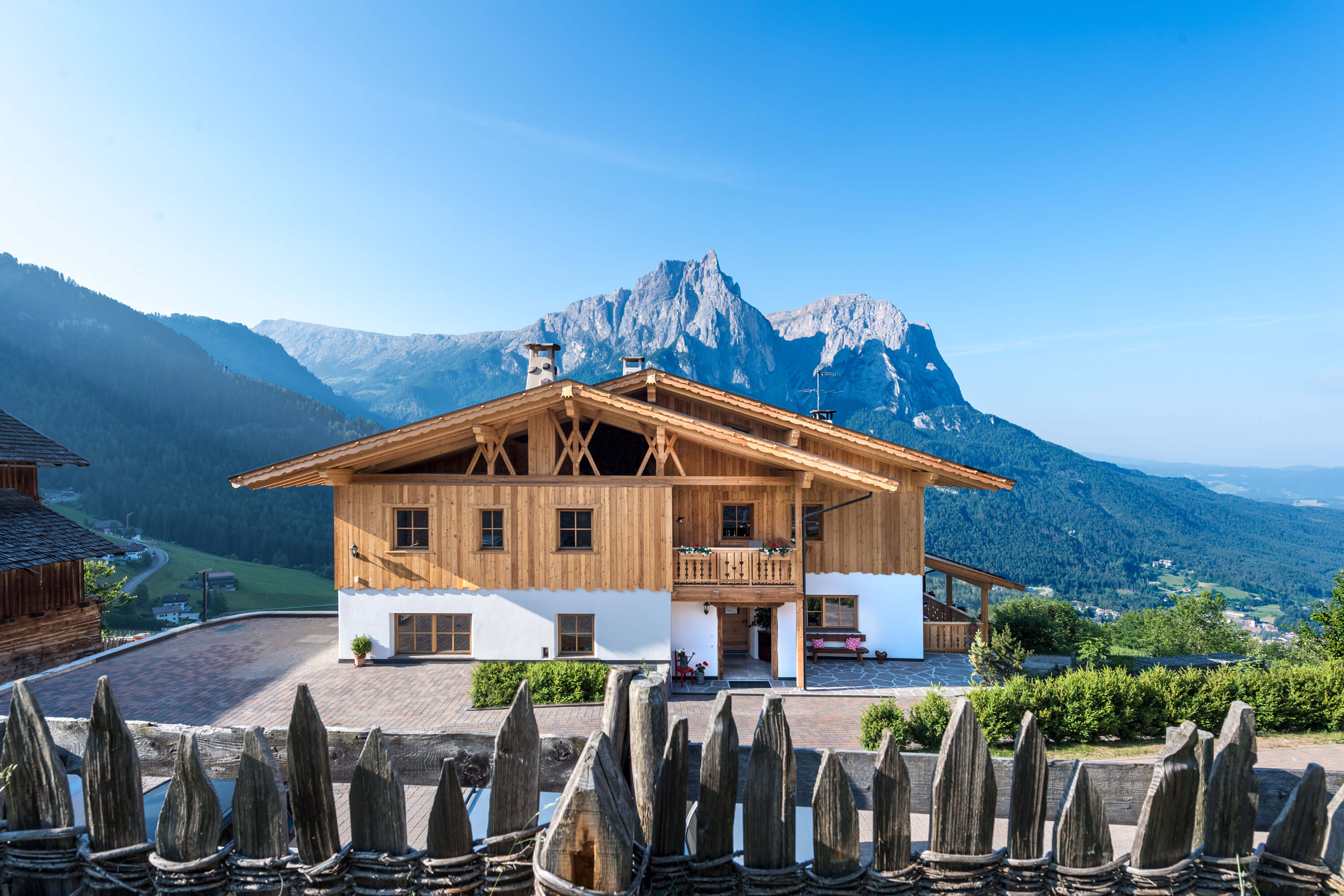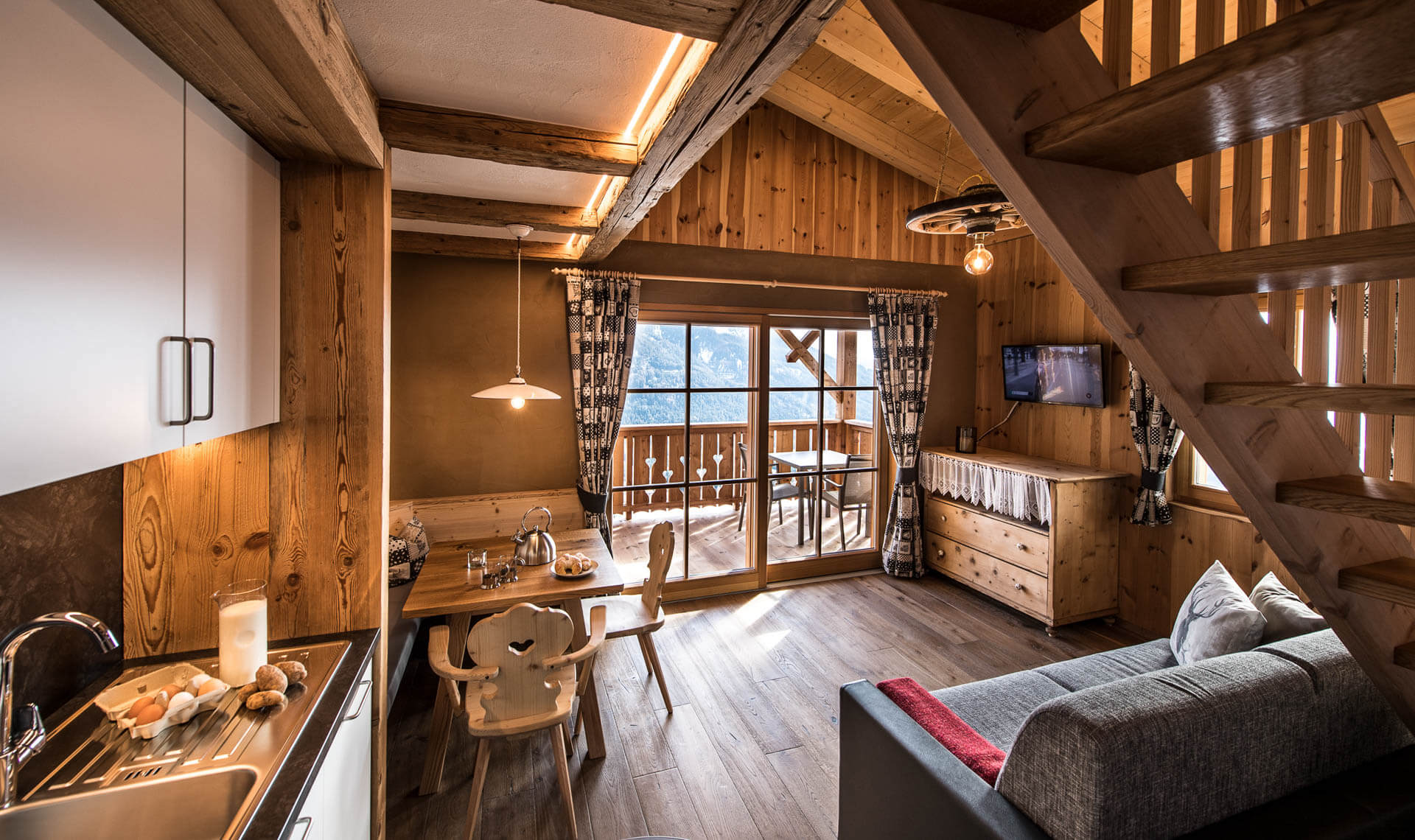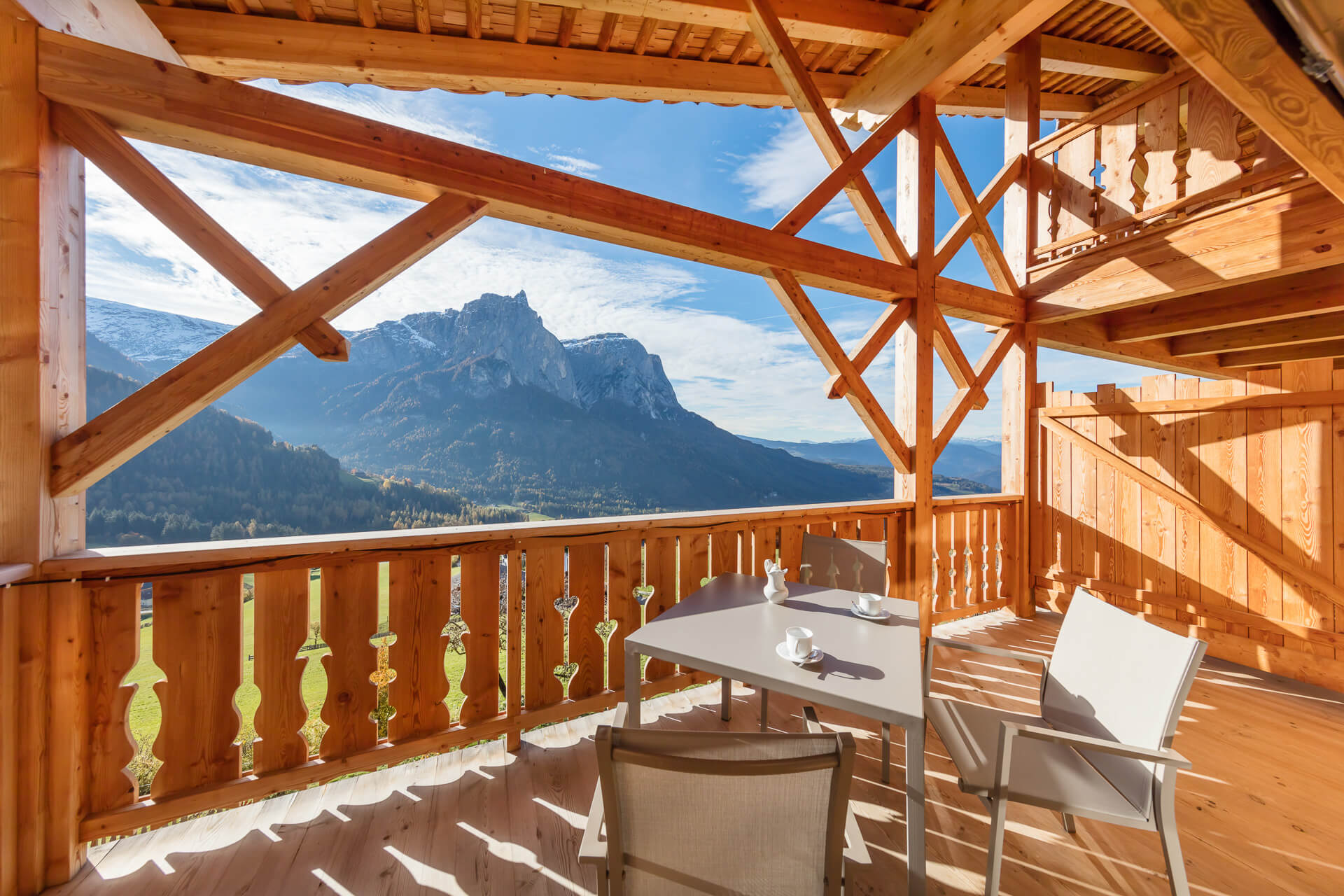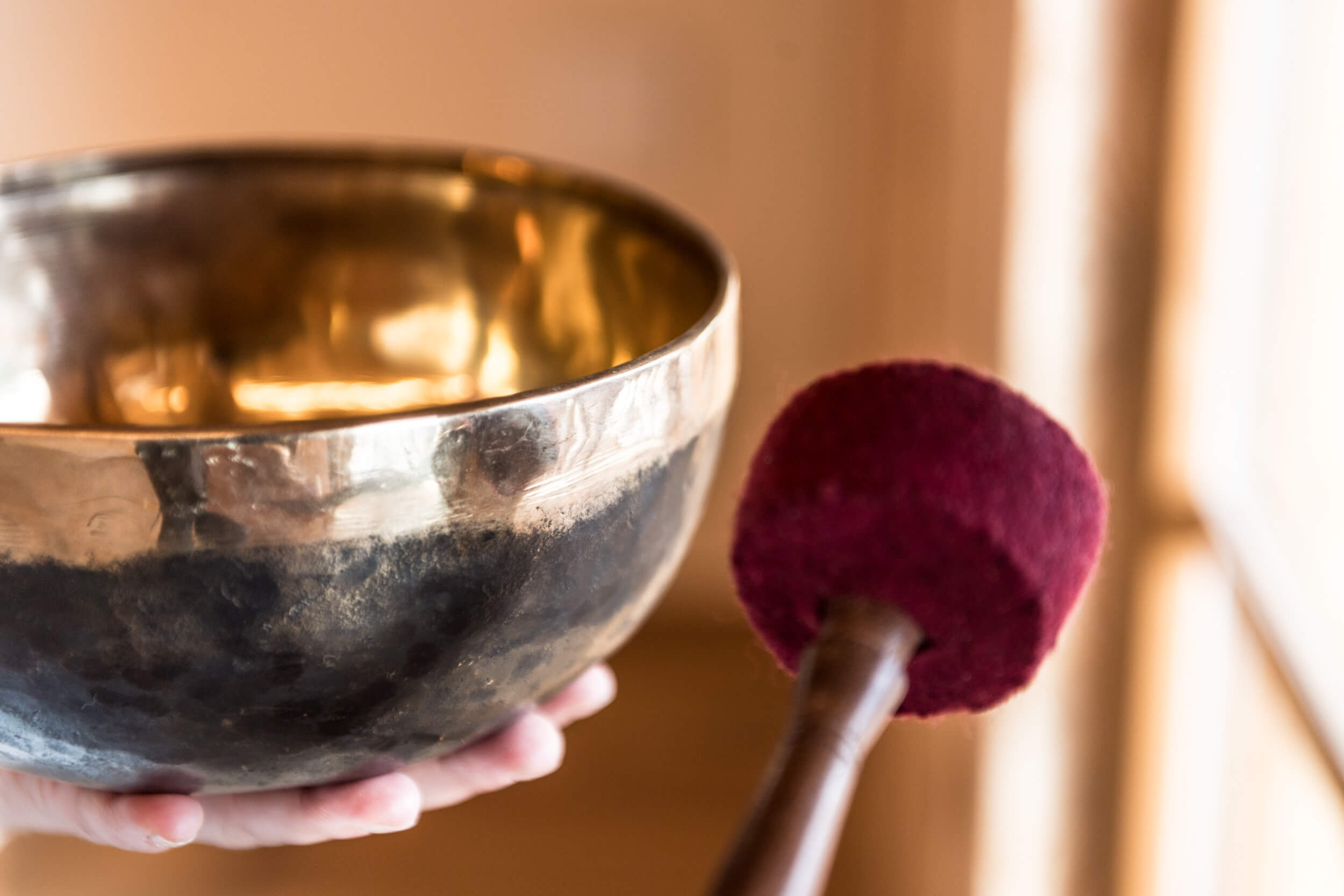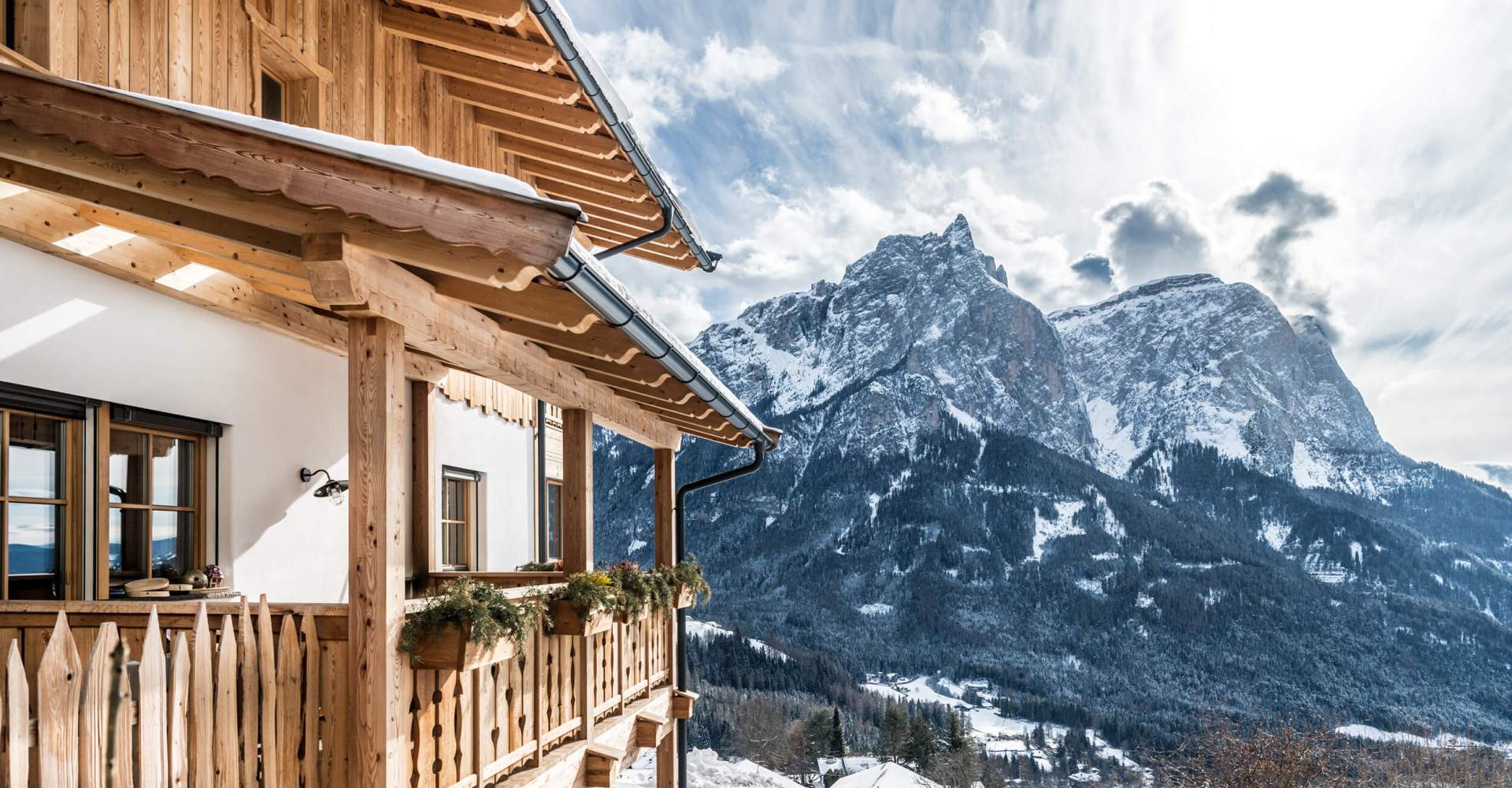 TRIEFER HOF IN THE MIDST OF THE UNTOUCHED MOUNTAIN LANDSCAPE OF CASTELROTTO / SOUTH TYROL
LIVING AGRICULTURE ENCOUNTERS RELAXING HOLIDAY IN THE COUNTRYSIDE
Holidaying on the farm takes on a whole new meaning at the Triefer Hof: The modern interior design of the new holiday apartments is stylishly adapted to blend in with the alpine ambiance; it allows our guests to mutually enjoy nature and comfort, as well as guaranteeing them a relaxed rural holiday in the mountains in a cosy atmosphere. Another relaxing factor is the feel good programme at the Hof itself – find inner balance, recharge your batteries and just let yourself go in the midst of forests and meadows.
Holiday apartments in a location with fabulous panoramic views
The Triefer Hof is located in Castelrotto/Kastelruth, South Tyrol and, with its phenomenal position on the mountainside, offers an unimpeded view of the striking Mount Sciliar Massif, including the Santner peak, which is also reflected in our logo. The expansive panoramic view stretching as far as the peaks of the Brenta, Presanella und Ortler groups, as well as the Ötztal and Stubaier Alps, is unparalleled.
The authentic living experience offered at the Hof allows our guests to re-focus on the essentials and to experience the fundamental elementary interplay between mankind and nature, and to possibly do so from a philosophical perspective as well.
Our home
The idyllic and tradition-conscience mountain village Castelrotto/Kastelruth is located in the heart of the Dolomites. It is situated at the foot of Europe's largest high alpine pasture, the Alpe di Siusi/Seiser Alm – an extremely popular and world-renowned alpine plateau for nature lovers and mountaineers. And this is how you spend your holiday with us at the Hof in Castelrotto/Kastelruth…
Our apartments
Our apartments at the Triefer Hof are cosy, traditional and modern all at the same time. Alpine style encounters elegant living appointments! Our apartments are thus the perfect place to linger, relax and feel good. The almost exclusive use of natural materials, and particularly wood from our own forests, offers a healthy and sustainable indoor environment for a recuperative holiday with us at the Hof.