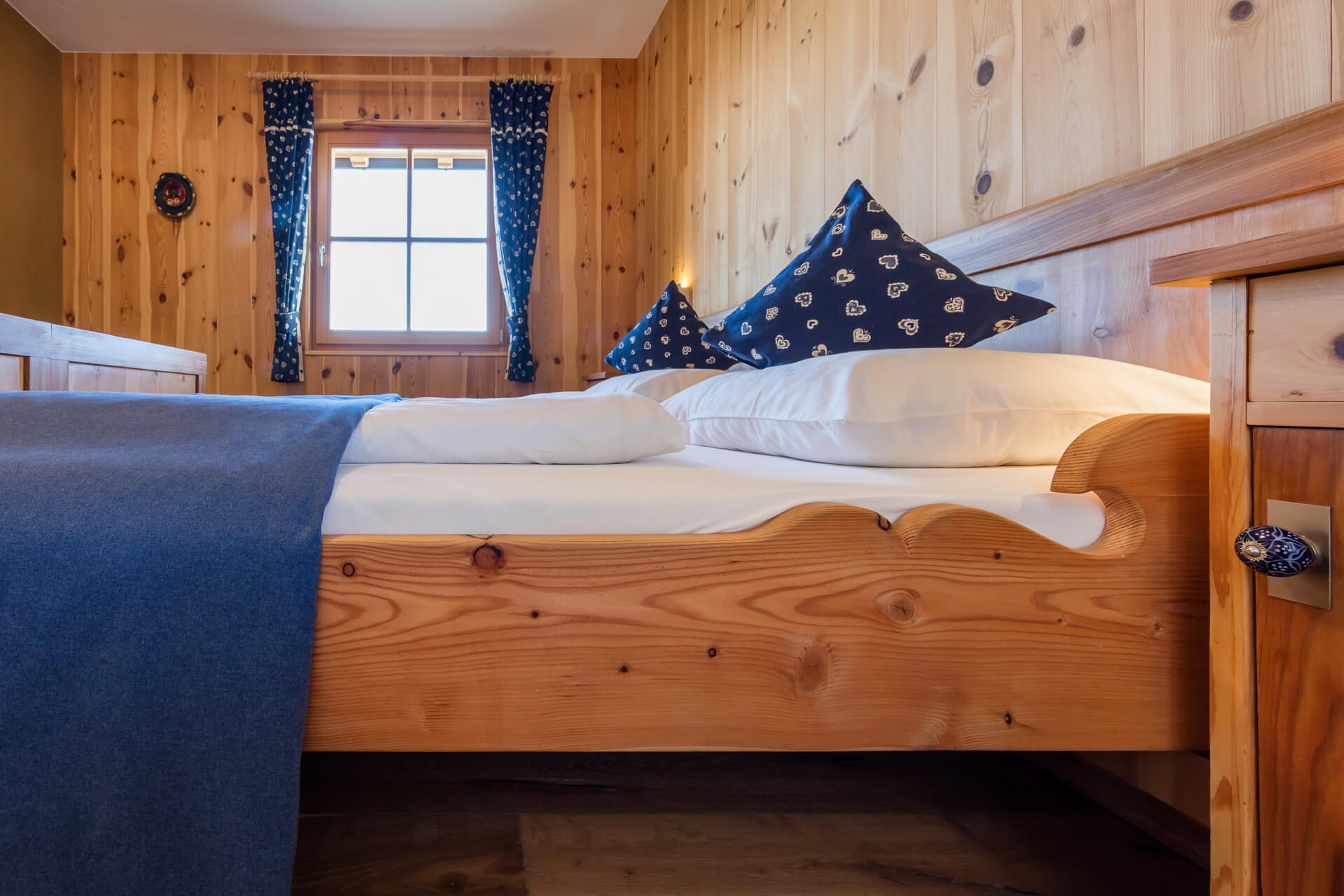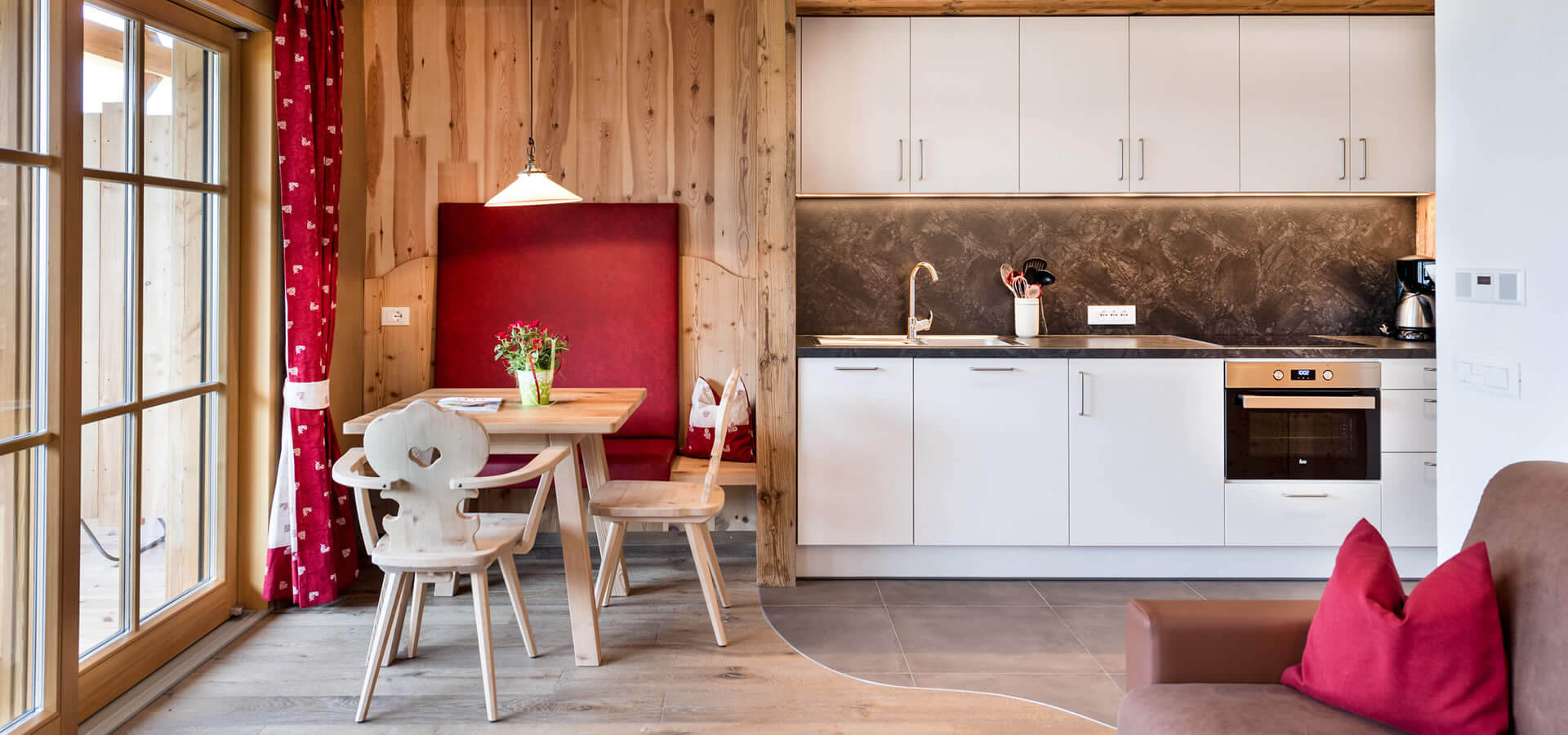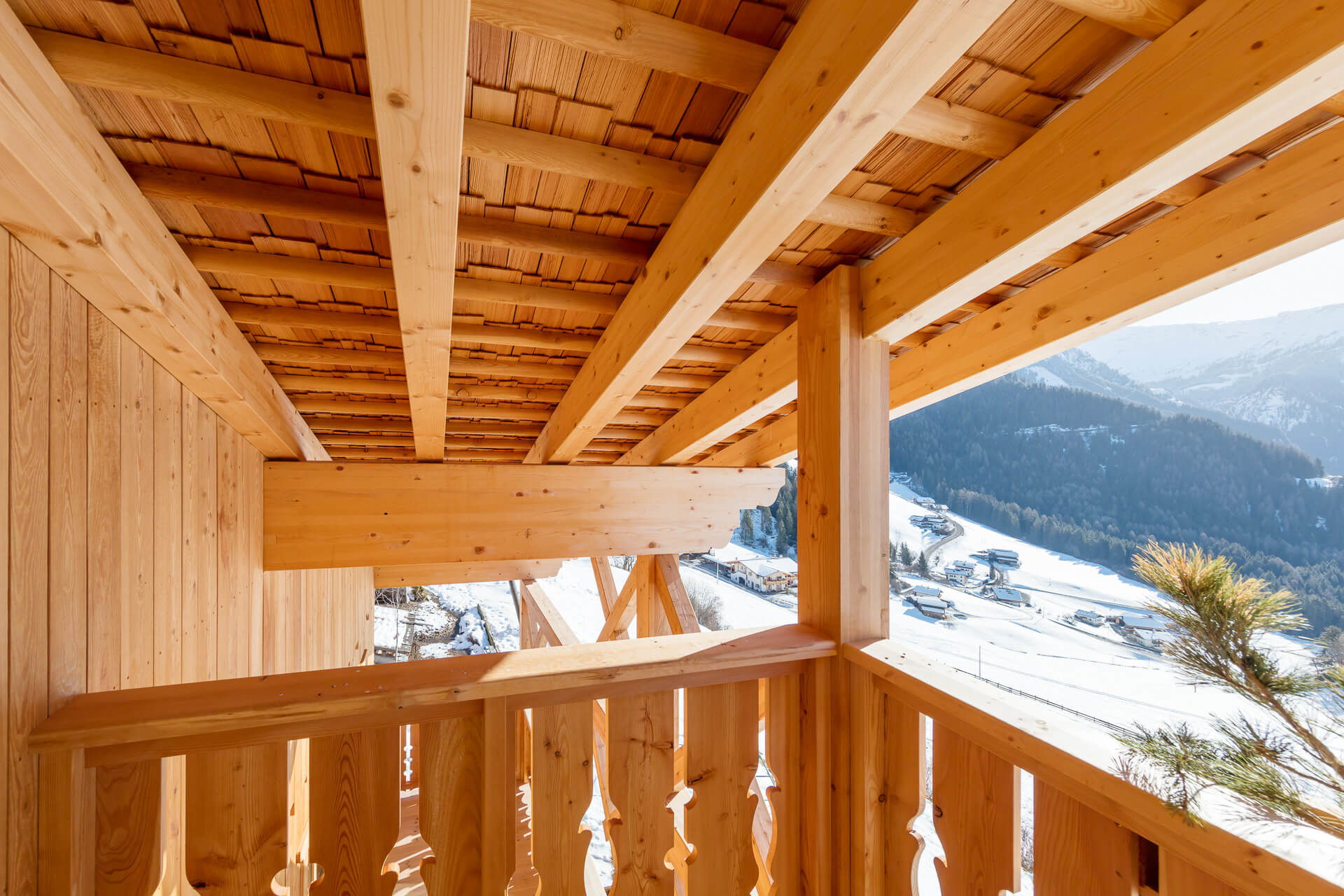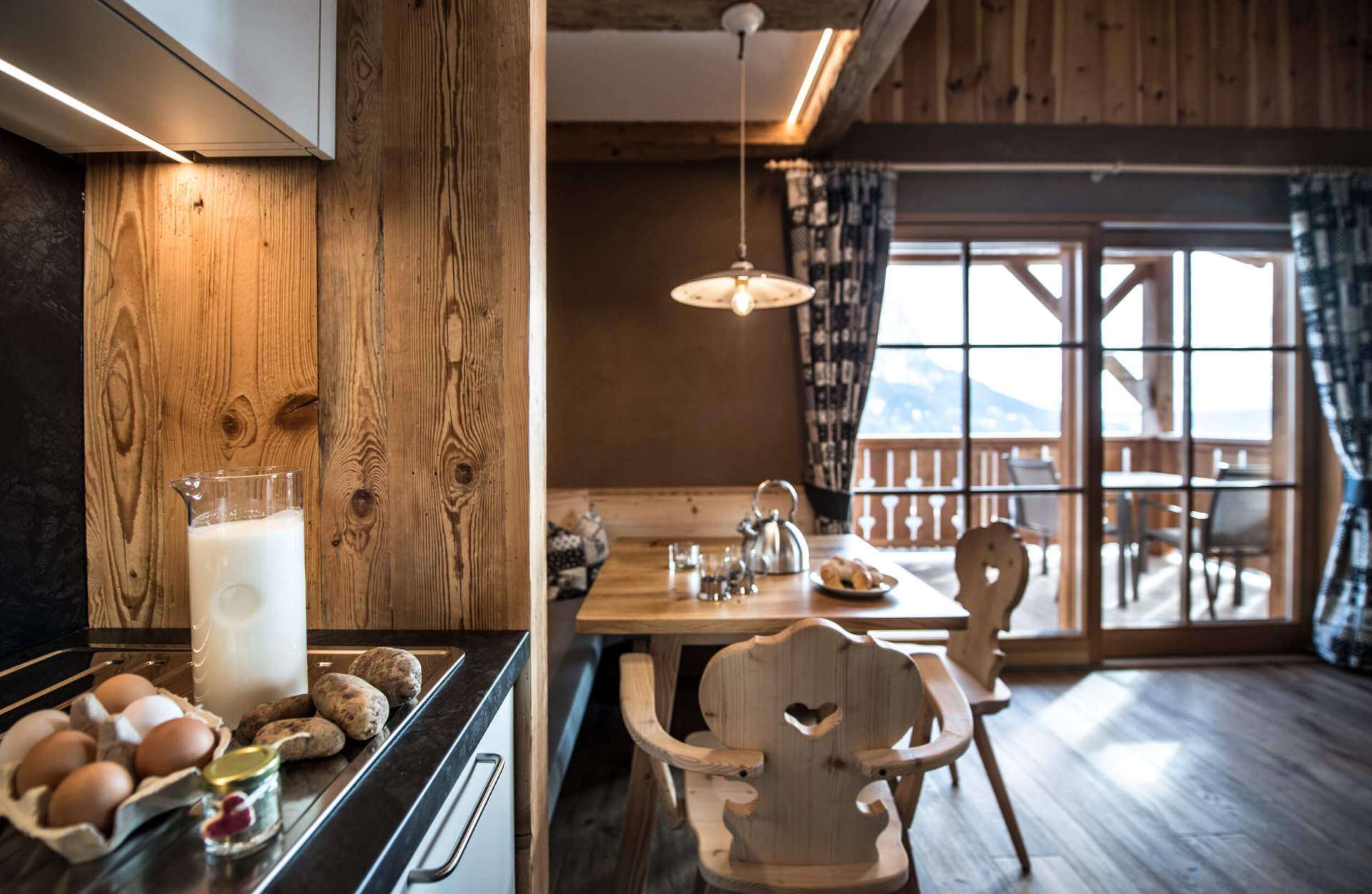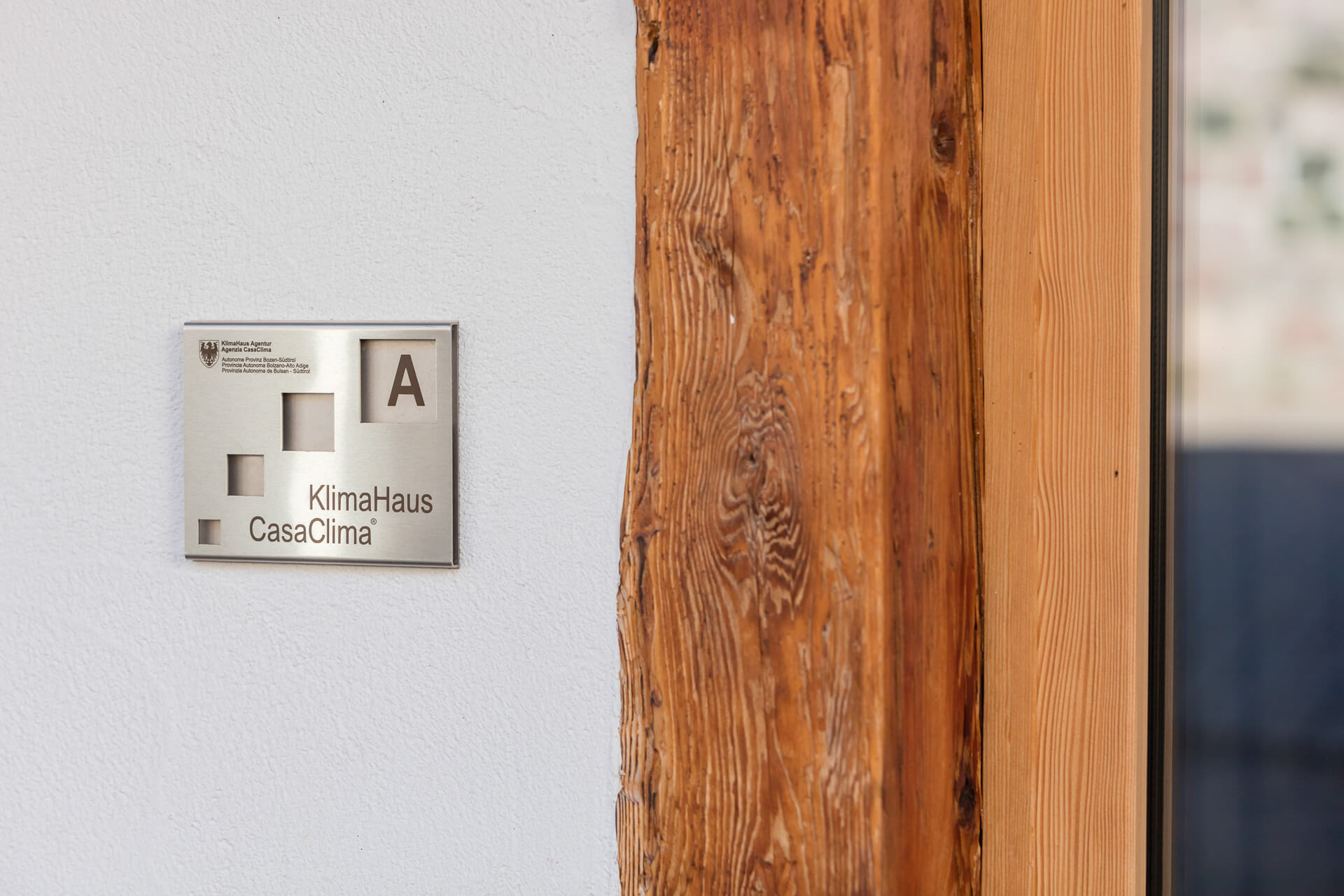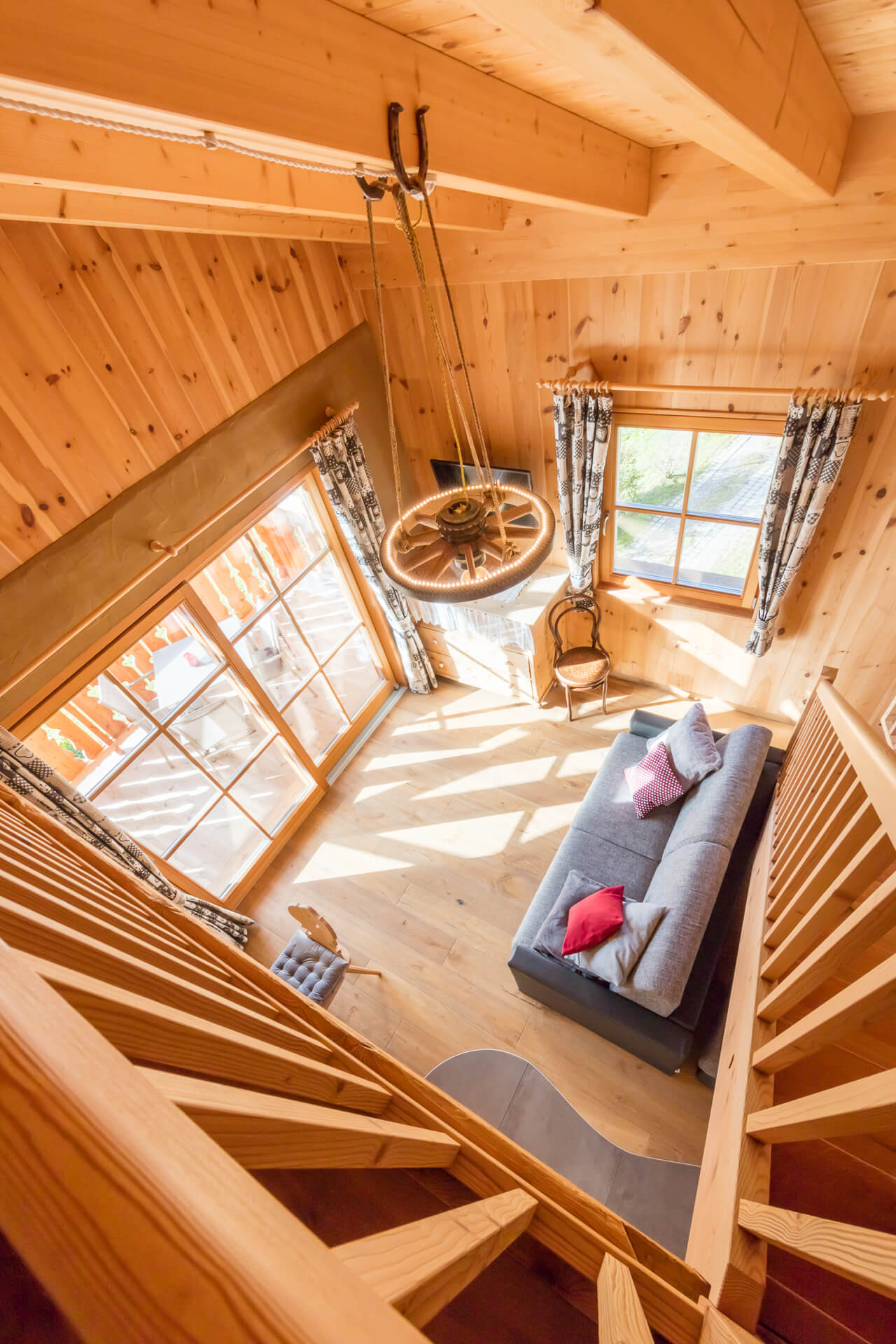 MODERN TRADITIONAL ALPINE-STYLE HOLIDAY APARTMENTS
A snug sense of well-being in your private rooms is a crucial factor for a restful holiday. And that's exactly what we bore in mind when building our holiday apartments. They are appointed with much love and care right down to the smallest details and with great importance being attached to natural materials.
FARMHOUSE
Natural materials were used almost exclusively in terms of an ecological construction method. We constructed the new farmhouse in Climate House standard "A" according to the solid wood construction method from our pine. Our guests rhapsodise about the light and very pleasant aroma of this wood, which lends the rooms a special alpine snugness. We used our larch tree wood for balconies and outside areas. We felled and harvested the processed wood in our own forests in winter 2015/16. The surface thereof is absolutely unadulterated and untreated. The thermal insulation of the farmhouse consists of purely natural wood fibre, with the windows been designed with triple glazing for the most part. The domestic rock porphyry and a pure limestone plaster were also used for the restructuring and, together with transpiring clay plaster walls and the partially visible pine walls ensuring an extremely pleasant and healthy living environment. The clay and wood walls are unadulterated, those of clay having merely been painted with an ecological interior paint. The appointments and floors were made by our carpenter from the wood of spruce, Swiss stone pine and oak. As a special highlight, we installed old wood elements, which originated from the processed age – old wood from our barn. The large panoramic windows facing south make the light-flooded rooms seem almost one with the rock faces of the Mount Sciliar Massif, which are located almost within your grasp in front of your large balcony. In addition to the natural and honest building materials, our heating system consisting of individually adjustable floor and wall heating offers you a sense of complete well-being as well as relaxation on your holiday, particularly in the cold months. The controlled domestic ventilation additionally exchanges the "old" used interior air for fresher and cleaner mountain air in an ecologically efficient manner. Incidentally, our generous and pleasantly designed bathrooms can become small wellness rooms in the colder season of the year…
HOLIDAY HOME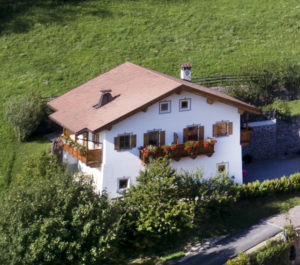 Located next door is the holiday home, constructed just a few years ago, with two extremely spacious holiday apartments. The apartments, furnished in Tyrolean style, are very light and comfortable in their appointments. Here too, we used wood from our forests. The rooms were appointed by our carpenter with a solid wood ceiling that lends a sense of snugness. Relaxation and peace is pre-programmed here: every apartment has two balconies and its own terrace including sunbathing area, which are situated in a peaceful location above the Hof's inner courtyard. The spacious bathrooms are appointed with a cosy bathtub, with floor heating ensuring a cosy warmth.
A major concern of ours is that our guests feel and experience this affinity to nature.
When they enter the holiday apartments for the first time, our aim is to trigger a warm homely feeling, which is in harmony with the surrounding landscape and architectonic tradition, without sacrificing any comfort whatsoever, thus giving our guests the feeling "of being welcome".
Every holiday apartment has its own charm and character, thus enabling all guests to find their favourite apartment, according to the latter's special feature and quality.
Find out why every apartment has its own special name…