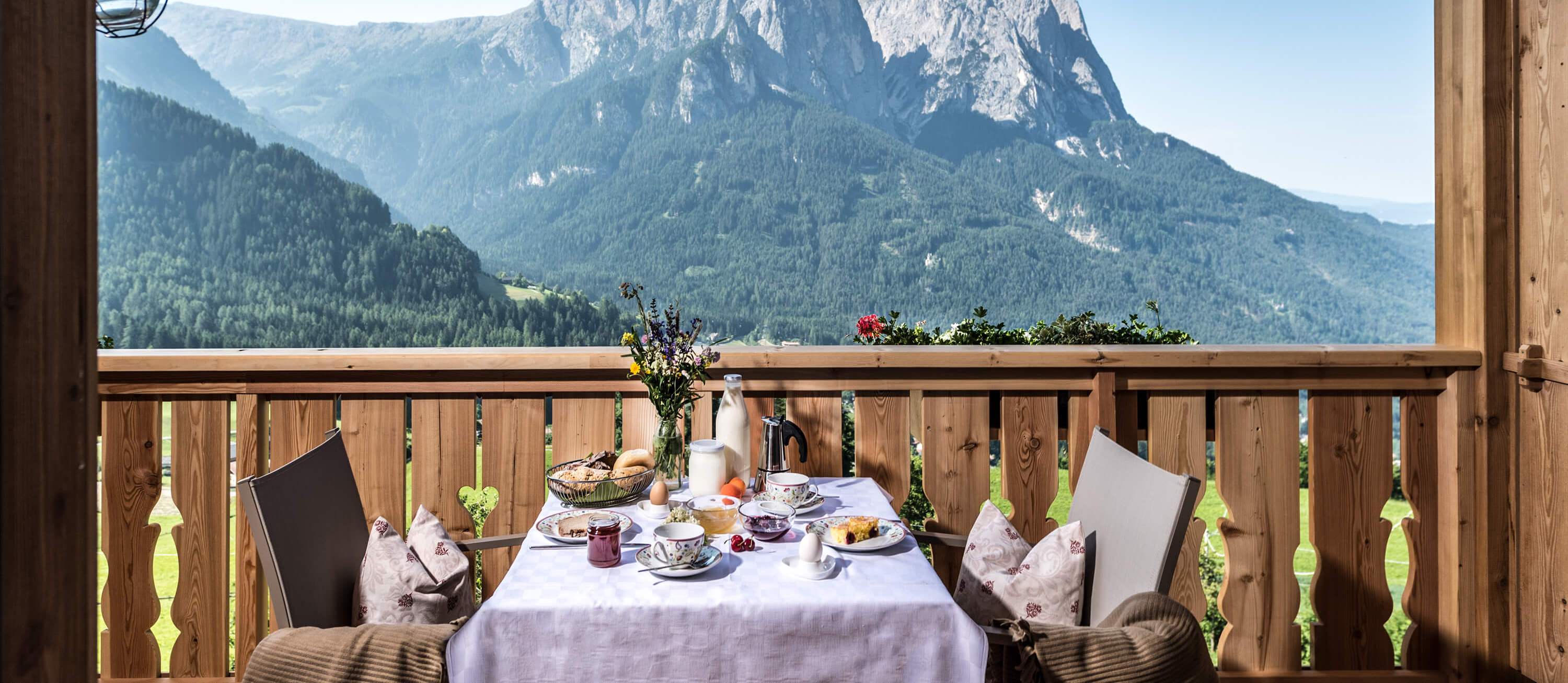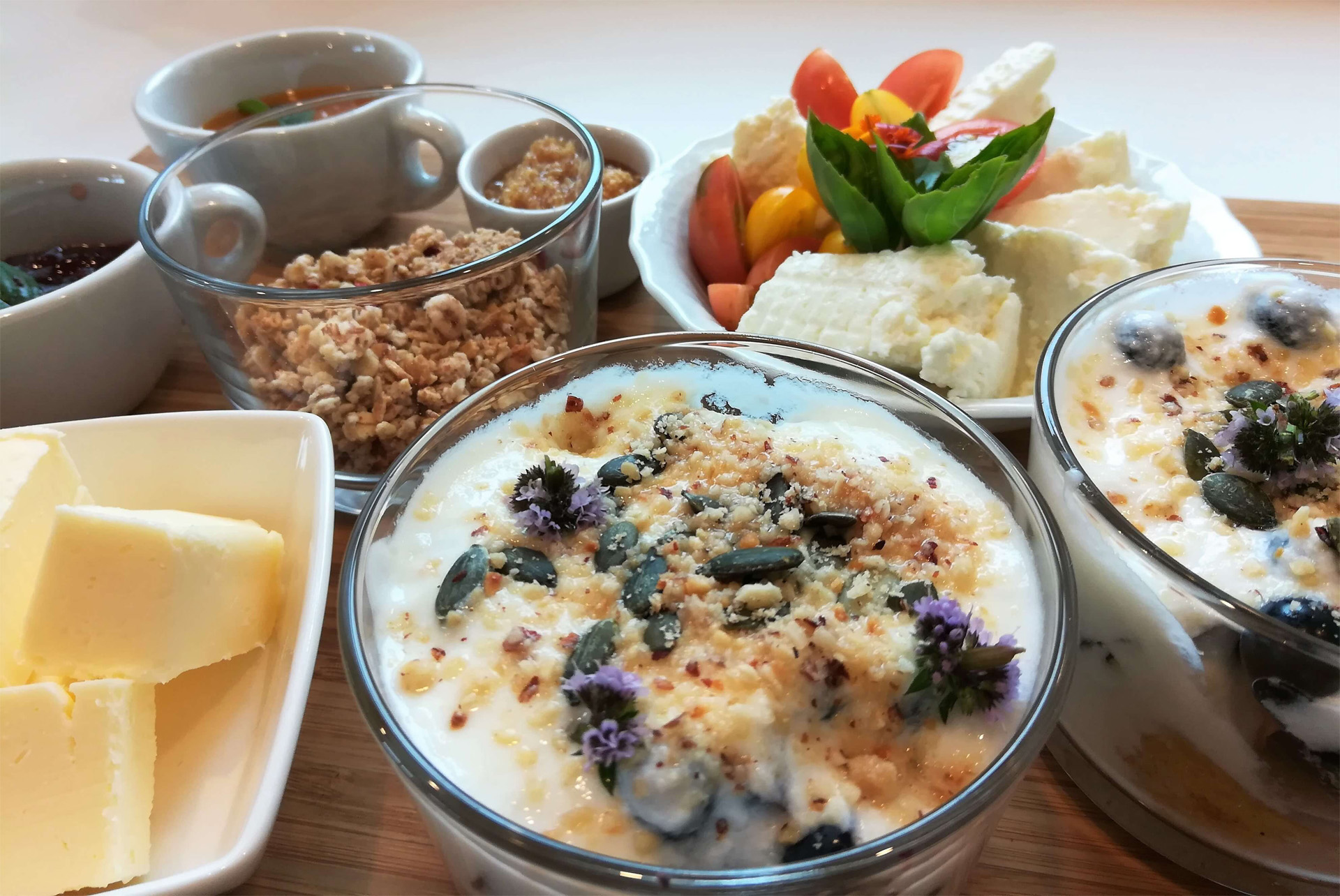 Moments of pure enjoyment
CONNOISSEUR MARENDE FOR A RELAXED ARRIVAL

We're happy to prepare a typical, tasty South Tyrolean Bauernmarende (hearty snack) for a stress-free start to your holiday. We call it "Marende"; an original Triefer Hof Marende includes South Tyrolean bacon and smoked sausages from our butcher, South Tyrolean cheese, home-made chutney, pickled vegetables from the garden, accompanied by South Tyrolean Schüttelbrot (a flat, brittle type of bread) and a glass of fresh milk from our cows or a glass of good South Tyrolean red wine.
It's best to let us know in advance if you want to round off your arrival day with this typical Marende.
CONNOISSEUR BASKET AND BREAKFAST
A relaxing holiday on the farm also includes a really healthy and tasty breakfast. Would you gladly forego the time-consuming preparation of your breakfast for once during your holiday, but still like to eat your breakfast in your homely holiday apartment or on the balcony with a stunning view of the Mount Sciliar? And do so still in your pyjamas or in grunge look? Then order an individual connoisseur basket according to your very own taste from us. We'll be happy to bring your basket to your holiday apartment at the agreed time.
Which breakfast or connoisseur basket would you prefer?
Connoisseur basket breakfast "Morget-Essn"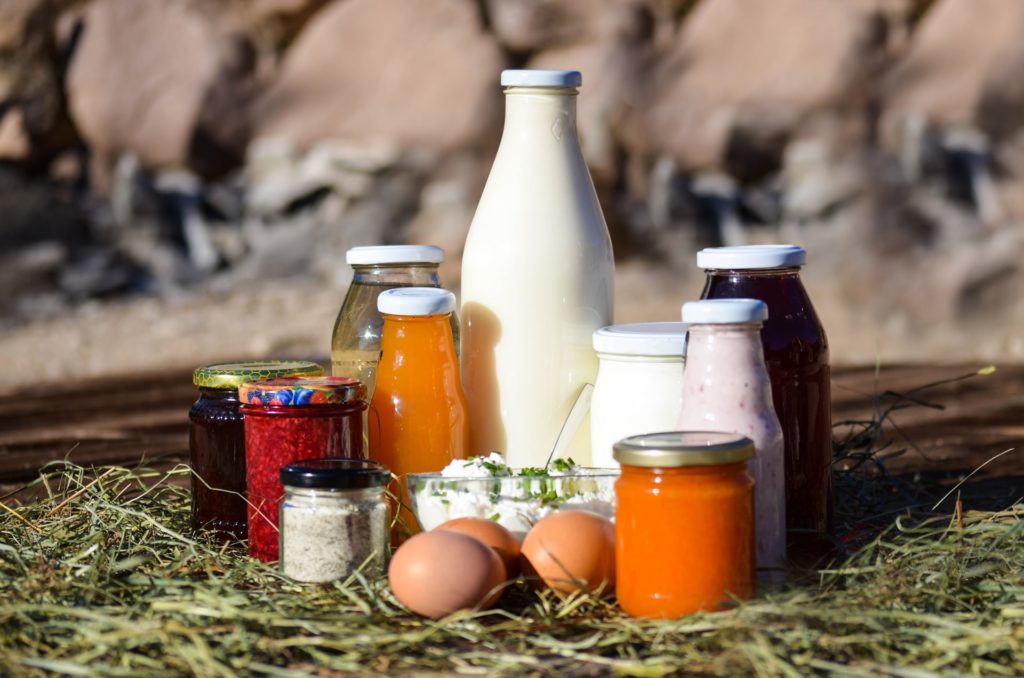 Herbal infusion made of dried herbs from our herb garden and/or
Coffee from the Roastery Caroma at Fiè allo Sciliar/Völs am Schlern
Fresh milk from our cows
Eggs from our hens and/or quails
Natural cream cheese – home-made from our cows' milk
Home-made natural yoghurt or drinking yoghurt
Depending on the season, our fresh as well as dried fruits and/or our homemade stewed fruits (compote), refined with nuts and muesli
Fruit spreads made of sun-ripened fruit from our cottage garden
Honey from our bees
Butter from the Brimi dairy cooperative – which processes our milk
Bread rolls from our preferred baker Oberprantacher at Siusi allo Sciliar/Seis am Schlern
Homemade cakes or yeast-raised pastries
Homemade fruit or herbal syrup with mountain spring water from Schlern/Sciliar
Connoisseur basket breakfast "Holbmittog-Essn"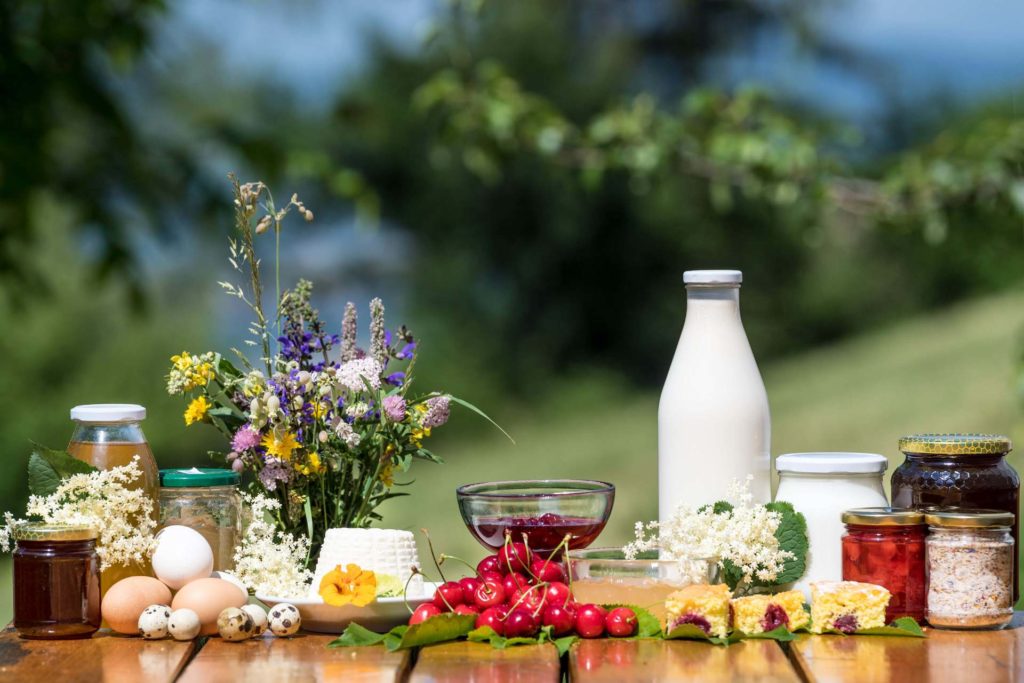 The same products as in the Connoisseur basket breakfast "Morget-Essn", as well as:
South Tyrolean bacon, cooked ham and sausage from our preferred butcher
South Tyrolean cheese
How to order?
Order your connoisseur basket or the connoisseur marende for your arrival at the same time as you make your apartment reservation.
You're also welcome to compose your own very personal connoisseur basket on request. Just ask young female farmer Verena.
We take great pleasure in pampering our guests with our farm produce, home-made specialities and regional products.