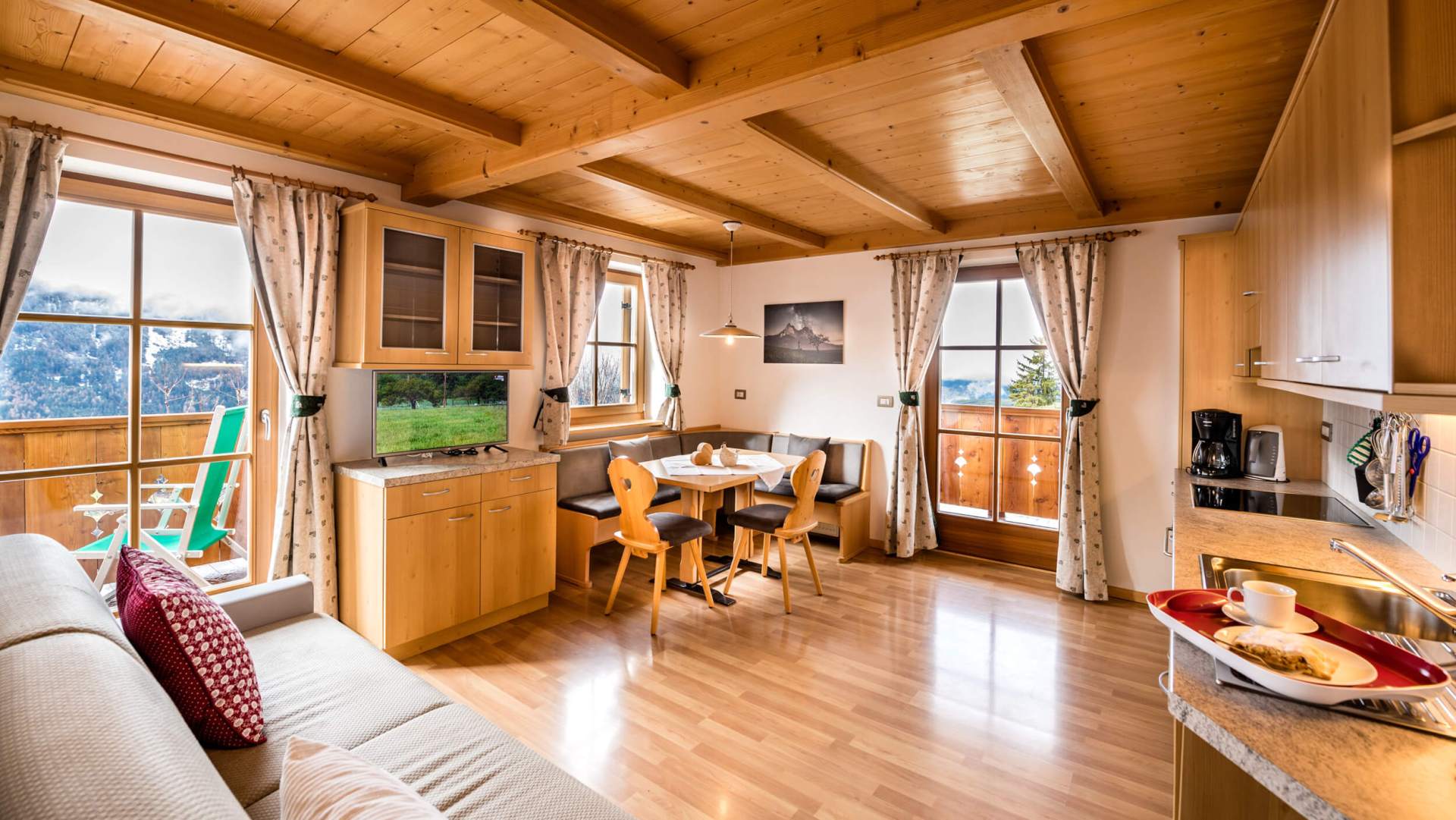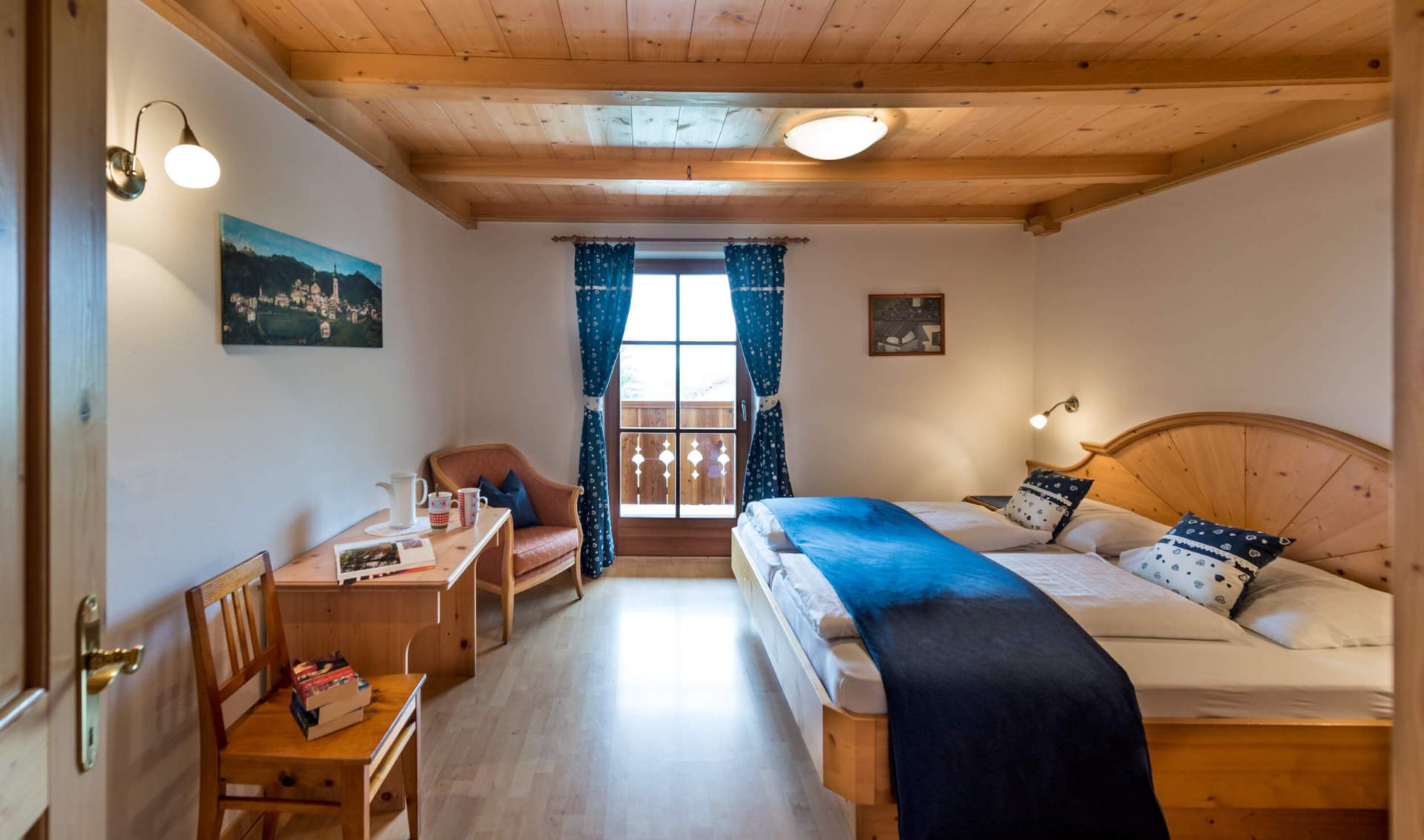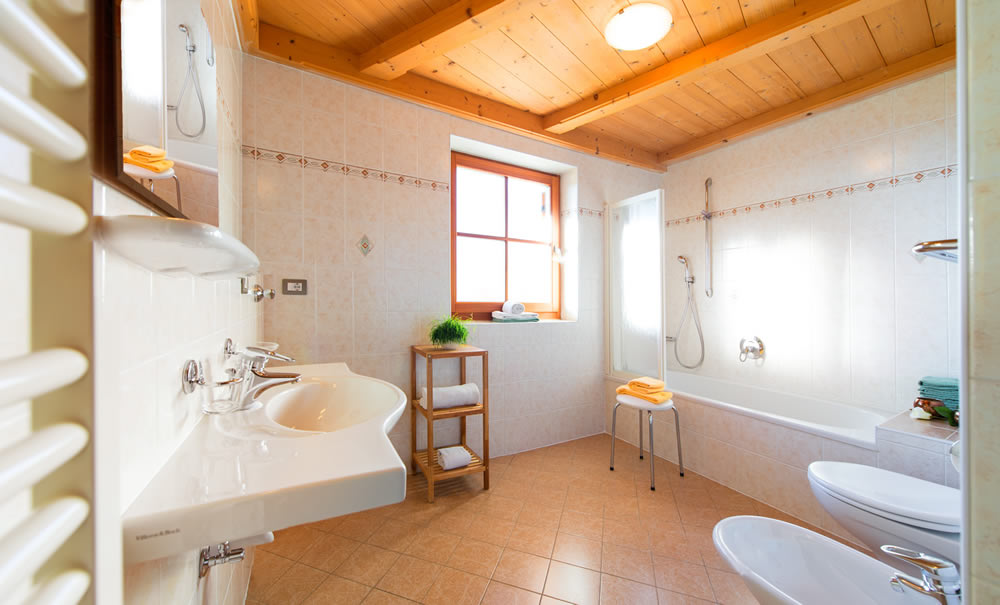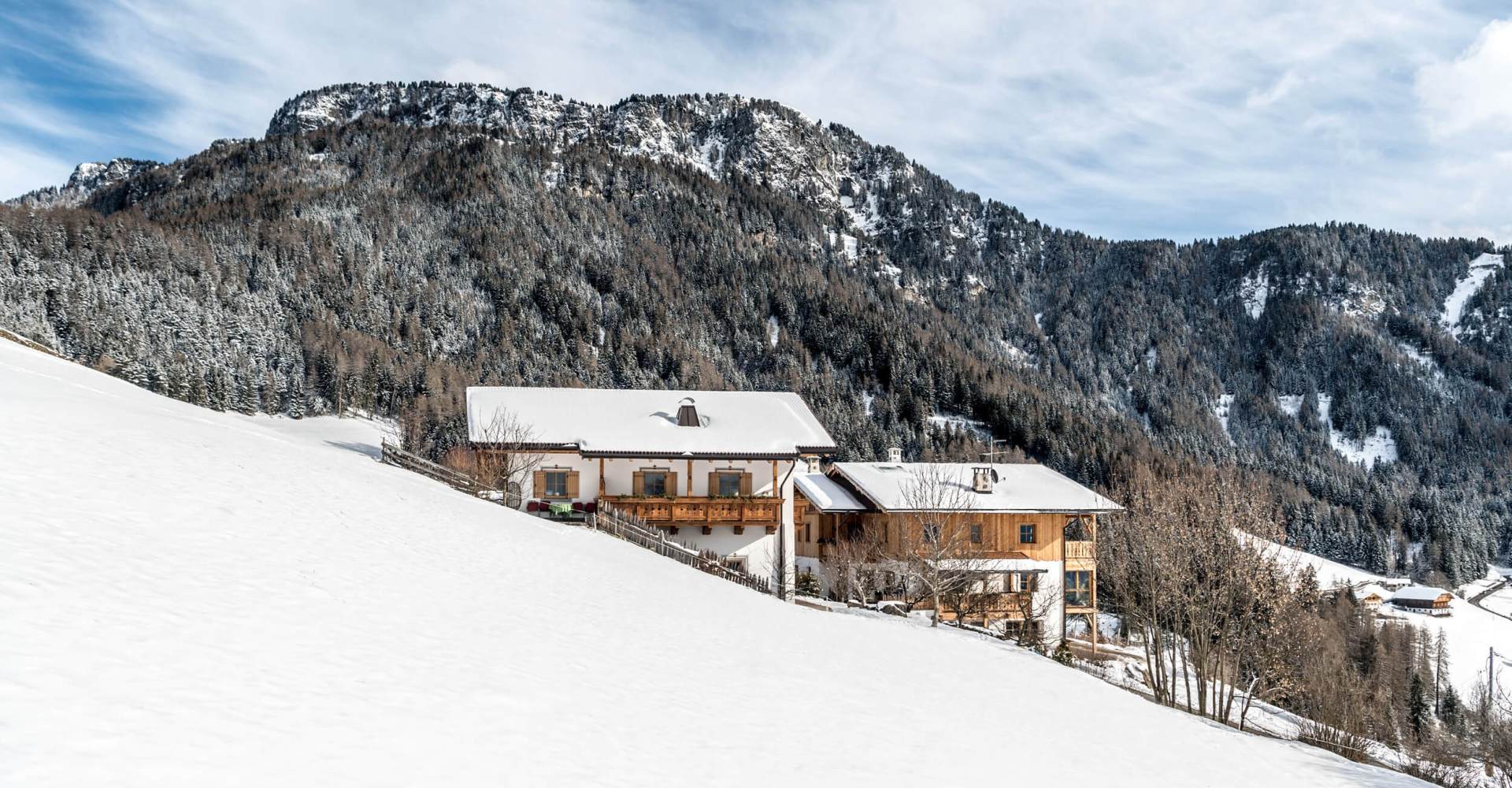 Apartment "Wiesnduft"
Spacious living, surrounded by wonderfully aromatic meadow herbs and flowers
The apartment in the holiday home offers a wonderful view of forest and meadows, spread over a total of 50 m². It consists of a large double bedroom, a bathroom with bathtub/WC, a kitchen together with living area including sofa bed and flat screen TV. The fully-equipped kitchen unit contains every household item you could wish for during your stay, as well as glass ceramic hob, oven, dishwasher, coffee machine and kettle.
The particularly spacious apartment at the quietest corner of our farm
For 2-4 persons / 50 m²
---
The south-west orientation of the apartment allows you to enjoy the pleasant rays of the sun from morning to night in the light-flooded rooms. The two balconies (spread over more than 11 m²), on the south and west sides of the apartment, are the ideal place to eat breakfast, as well as relax and linger, while enjoying an unimpeded view of the surrounding mountains. In addition, the seating on your own terrace in front of the apartment offers an extra lounging area in the fresh mountain air.
Apartment request
Details Wiesnduft
50 m²
2 – 5 persons
1 double bedroom
1 bathroom with bathtub/WC
1 sofa bed
Kitchen
2 Balconies
Own terrace
South-west orientation
Floor heating
Appointments Wiesnduft
Bed linen and hand towels
Kitchen utensils
Tea towels, kettle, induction hob, oven, coffee machine, fridge with freezer compartment, toaster
Sat TV
Safe
Vacuum cleaning system
Clothes horses
Cleaning utensils
High chair and children's bed/baby cot on request
Extra bed for adults on request
Loungers on the balcony
Service Wiesnduft
Free parking space
Free WLAN
Washing machine (washing detergent and fabric softener for a fee)
Laundry service (new hand towels once a week as well as new bed linen if required)
Iron on request
Breakfast service
Bread roll service
Farm produce
Ski shuttle service in winter
Mobil Card
Sunbathing area and children's playground
Organisation of hiking guide, mountain guide, bike guide, bike rental, horse-riding courses or horse rides, horse-drawn carriage ride, paragliding flight, canyoning etc.
Ski depot
On request:

Coffee and home-made cake in the afternoon
South Tyrolean Brettlmarende (hearty snack)
Tasting of South Tyrolean cheese specialities
Cooking class (bacon dumpling, South Tyrolean Apfelstrudel…)
Invaluable services:
realising that:

milk from the Triefer Hof does not come out of a carton,
that real honey is made by millions of little insects,
that eggs are the products of curious and yet still shy animals…

cuddling with the farm cats
free serenade call from our rooster
feeding, beauty treatment and pampering programme of our animals on the farm – our baby calves and donkeys are happy for every stroke and sign of loving attention
refreshing mineralised mountain drinking water from the Mount Sciliar
impressive natural spectacles, ranging from eagle and buzzard flights to sightings of wild animals, from summer storms in the evening with rainbows to seas of residual mist in the deep valley basins below use in the morning, from the brightest starry sky via the bizarre light of the rock faces to the enchanting mountain landscape in winter with the most various of animal tracks…
absolute traffic-free zone
healthy living environment due to the natural materials in the apartments
AUTUMN
2023
Alpenglow
Time-out
09/09/ – 11/11/2023
11/11/ – 16/12/2023
92 €
73 €
WINTER
2023/24
Christmas
Winter dream
16/12/2023 – 07/01/2024
07/01/ – 07/04/2024
126 €
99 €
SPRING
2024
Spring awakening
Alpine blossom
07/04/ – 27/04/2024
27/04/ – 01/06/2024
98 €
101 €
SUMMER
2024
Scent of hay
Mountain summer
01/06/ – 29/06/2024
29/06/ – 07/09/2024
108 €
115 €
AUTUMN
2024
Alpenglow
Time-out
07/09/ – 09/11/2024
09/11/ – 21/12/2024
97 €
78 €
WINTER
2024/25
Christmas
Winter dream
21/12/2024 – 06/01/2025
06/01/ – 26/04/2025
133 €
104 €
Prices per day and apartment, for a stay of 2 persons for at least three nights
Surcharge for every extra person: EUR 15.00/day
Prices plus EUR 1.75 local tourist tax per person (as of 14 years old) and day
Pets also welcome by agreement (surcharge: EUR 12.00 to EUR 15.00/day)
Prices include water, electricity, heating and final cleaning (see list of appointments above)
Cancellation conditions
In the event of cancellation, the following conditions apply:
Up to the 60th day before the planned arrival, you may cancel your holiday without incurring any extra charges;
From the 59th to 28th, we charge 3 days of the agreed holiday price;
From the 27th day before arrival onwards, the cancellation fee is 70% of the reservation price.
For your own safety, we recommend that you take out travel cancellation insurance, e.g. with Europäische Reiseversicherung AG: Click here
Non-binding apartment request